The Data Collaboration Center (DCC) of the Critical Path Institute (C-Path) was founded to provide large-scale data solutions for scientific research. The DCC's work takes place in a neutral, noncompetitive environment, utilizing appropriate data standards (such as those of the Clinical Data Interchange Standards Consortium [CDISC]). The DCC possesses the top-tier technical, scientific, and project management expertise necessary to support advanced research efforts. DCC solutions include:
Development of customized data-sharing platforms
Planning and execution of multisource data aggregation and standardization
Sustainable curation and administration of data and its storage
Ability for teams to work together to analyze and interpret data
Robust security policies and framework
Application of current regulations to ensure compliance
Mission of the Data Collaboration Center
To enable multiple organizations to work together in a neutral setting and share medical data in order to optimize its value in creating new insights and tools that accelerate drug development in areas with unmet healthcare needs.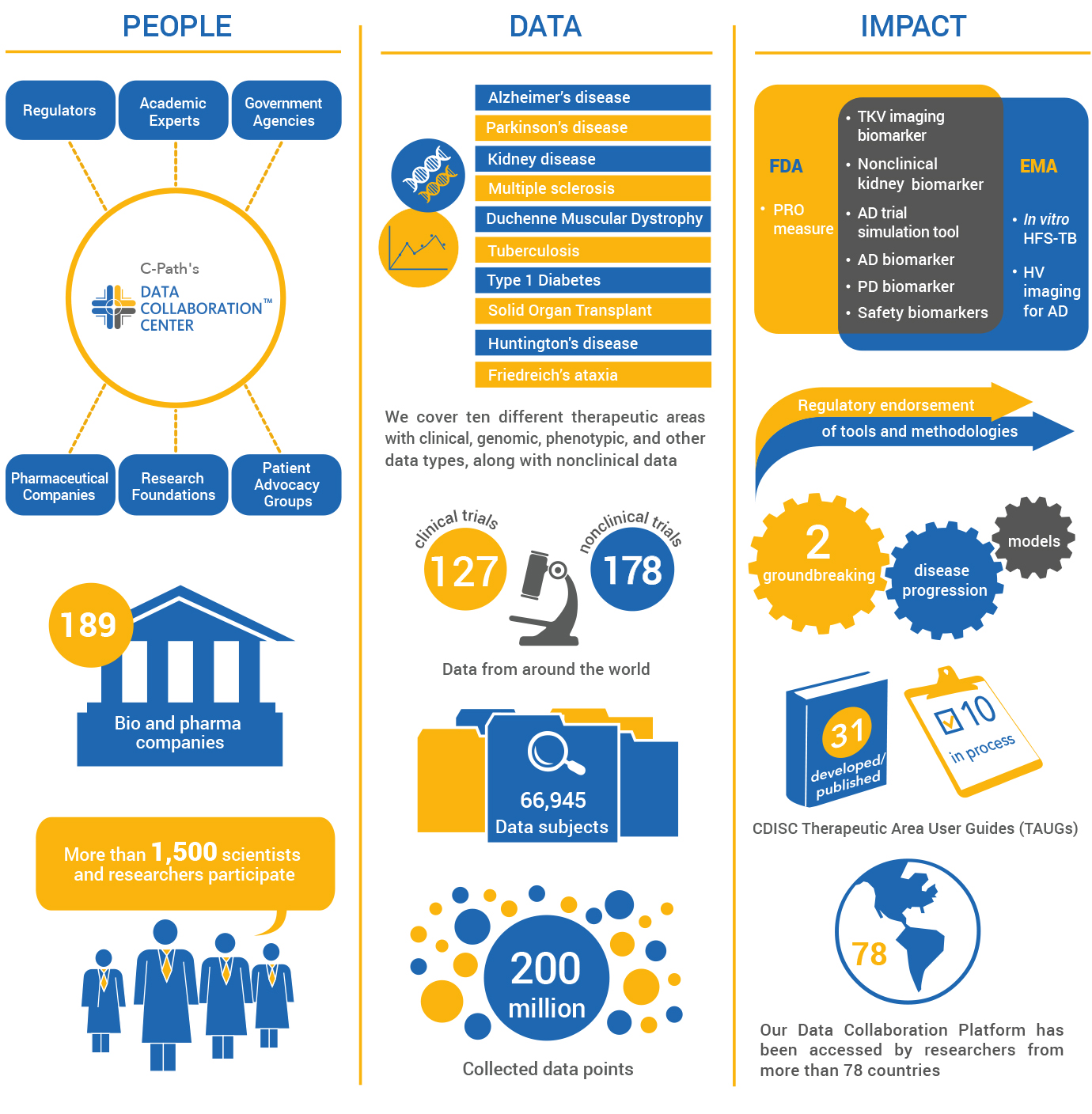 *As of February 2019
A Legacy of Collaboration
C-Path, as a trusted and independent entity in regulatory science, is a go-to provider of data-sharing solutions for stakeholders from industry, global regulatory agencies, government agencies, non-governmental organizations and agencies, patient advocacy groups, and academia. C-Path has a decade of experience in data standards development, platform development and hosting, stewardship of patient-level data privacy, data platform security, and controlled access methodology. The DCC manages data according to the distinct requirements set by the governance of its individual projects, and has met desired end goals, such as development of clinical trial simulation tools, biomarker qualifications, and outcome assessment instrument development.
As of February 2018, the DCC's data platform securely hosts data from 107 clinical trials and 119 nonclinical studies, representing over 60,000 subjects, over 200 million data points, and six different therapeutic areas.
A Commitment to Safe, Secure Data
The DCC's policies around individual patient-level data meet or exceed data privacy and human subject research protection requirements. Every contribution of clinical data to a DCC project is governed by a data contribution agreement, which specifies the scope of data sharing permitted by the contributor. Data contributors must also certify that they have met all applicable requirements to enable secondary research on contributed data. Through the support of our sponsors, members, and collaborators, data is currently made freely available to qualified researchers. All users must agree to terms and conditions for accessing project data.